Raccoon Removal Thornhill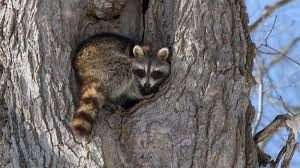 How does raccoon removal Thornhill Works? ECO Wildlife Control is prominent in raccoon removal Thornhill and the GTA. Raccoons, Yes, we may not see the raccoons at night but they are here. They tip and spill garbage cans, loud noises in your attic at nights. Raccoons are nocturnal animals that tend to nest in warm, dry areas, naturally in a hollow of a tree. With many residential developments in the city of Toronto and across GTA, raccoons have less natural habitat to live in.
Raccoons in Toronto and other cities have adapted to nesting in a house attics, chimneys, garages, and decks/sheds. By nature, they are destructive and will damage an area on your roof to get access inside. If raccoons are left where they are, they will cause a lot of expensive damages. If there are raccoons in your property you typically would hear a loud scratching and walking sounds. For guaranteed raccoon removal Thornhill and across GTA call ECO wildlife removal today for a free estimate.
RACCOON REMOVAL BY      ECO WILDLIFE CONTROL
If you hear noises in our attic or suspect that you have raccoons living somewhere in your property call our office to make an appointment. Most appointments are booked for the same day or within 24 hours. We start with an inspection to locate the Raccoon entry hole (damaged area). Once we find the source, we install a one-way door over the hole. This device will allow the raccoons to exit and not be able to return. This is the most humane raccoon removal method available.
After the raccoons have left, we will come back to remove our one-way door and permanently seal the hole with screening. If further work needs to be done we will advise you. All our work is 100% guaranteed for 5 years to keep the raccoons out.
BABY SEASON
Raccoon Baby season is here, it is very important to inspect and locate the Raccoon babies. Their removal is essential for the success of our system. When we remove the Raccoon babies, we will place them in a custom heated baby Raccoon box outside for the mother to discover and relocate to their secondary den.
ABOUT RACCOONS
Raccoons are known to be very smart but destructive animals. They have adapted very well to humans and every year causes thousands of dollars in damages to residential and commercial properties. To remove them successfully you need to know their habits. Every night they get out to socialize, eat and play. Every year the females give birth to 1 to 9 Raccoon babies during the baby season (March to July). It takes about 2 months for the babies to become mobile. It is very important to call a professional raccoon removal company to get rid of your problem, especially if there are Raccoon babies involved.
Raccoons usually have multiple dens in the same area (2km radius) so if you don't hear them every day, it doesn't mean that they won't come back. They often travel from one den to another. So you might hear them one night and not the other. we know that no one wants to live with Raccoons in their attic, chimney or garage. Our proven humane Raccoon Removal ensures that your problem is taking care of without harming the Raccoon mother and her babies. We love animals and do everything possible to ensure their safety.
Raccoon Removal Thornhill Video
Watch our technicians deal with raccoons on daily basis. Do not try this at home.